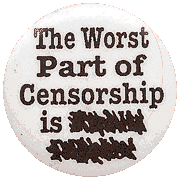 Demissionair minister Hirsch Ballin heeft onlangs een wetsvoorstel ingediend onder de noemer "versterking bestrijding computercriminaliteit". Ondanks de mogelijk goede bedoelingen achter deze wetgeving lijkt het echter met name overheidscensuur te faciliteren e.g. in de hand te werken. De minister zal met deze wet de rechten van de online burger zeer sterk inperken.  Websites kunnen zonder tussenkomst van een rechter afgesloten worden, het wordt strafbaar om niet-openbare gegevens openbaar te maken (WikiLeaks/klokkeluiders) en er komt een verbod om opnames te maken van eigen gesprekken. Het mag duidelijk zijn dat deze voorstellen in de huidige vorm absoluut onaanvaardbaar zijn!
Ik sluit me daarom nadrukkelijk aan bij de oproep tot actie van Bits of Freedom die een brandbrief gepubliceerd hebben waarin Hirsch Balin gevraagd wordt de tekst van het voorstel aan te passen. Een ieder wordt daarbij gevraagd 1) te reageren op de internetconsultatie over deze wetgeving en 2) publiekelijk op hun blog de inhoud van de brief te onderschrijven. Bij deze dus!
Hoort, zegt het voort en laat je stem horen tegen dit zeer onwenselijke wetvoorstel!
Hieronder de tekst van de site van Bits of Freedom:
Op 15 september hebben wij een brief (PDF) gestuurd naar demissionair minister Hirsch Ballin, waarin talloze hoogleraren, bloggers en maatschappelijke organisaties zich uitspreken tegen een recent gelanceerd wetsvoorstel dat overheidscensuur in de hand werkt. Laat je horen, en doe mee met de actie tegen dit wetsvoorstel.
Hoe kan je actie ondernemen tegen het wetsvoorstel?

Stuur vandaag nog een reactie op de internetconsultatie over dit wetsvoorstel en stuur de brief mee (PDF). De internetconsultatie loopt tot 30 september.
Schrijf daarnaast een blog waarin je jouw steun voor deze brief uitspreekt, anderen oproept om te reageren op de internetconsultatie, en laat een link achter in onze comments.

Hoe meer reacties, hoe beter! Met een breed verzet kunnen we zorgen dat dit wetsvoorstel van tafel gaat.